Antivirus Security Pro
Anti-Virus security pro its actually a kind of virus which pretend to be a legitimate security program and claim that your computer is infected and ask you to buy full version to clean it up.
It's important to remember that by purchasing Antivirus Security Pro you will be submitting your personal information to unscrupulous persons and may also end up being a victim of credit card or identity fraud or theft.
Lets take a look of the screen:-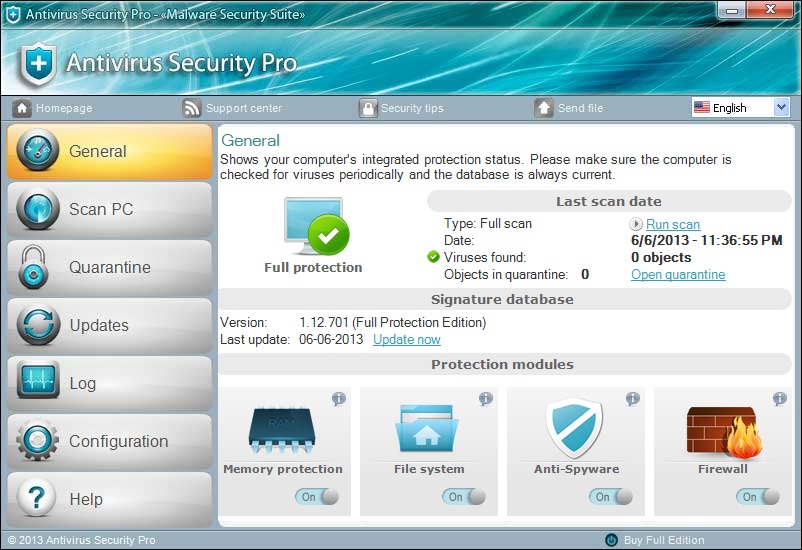 Antivirus Security Pro targets Internet Browsers, and rely on social engineering to deliver its payload. This infection is promoted through web sites that have been hacked with scripts that try to install the software by exploiting vulnerabilities on your computer.
Once installed, Antivirus Security Pro will display fake security alerts that are designed to think that your data is at risk or that your computer is severely infected.
If your computer is infected with Antivirus Security Pro virus, then you may see a screen like this: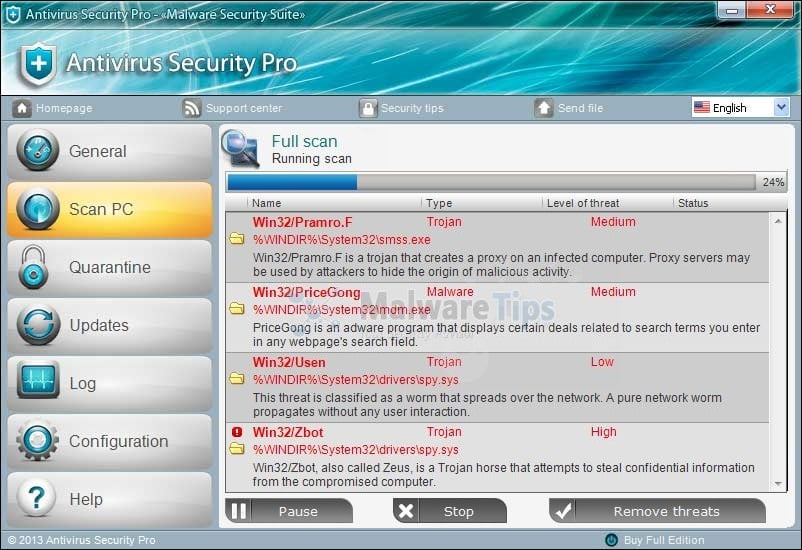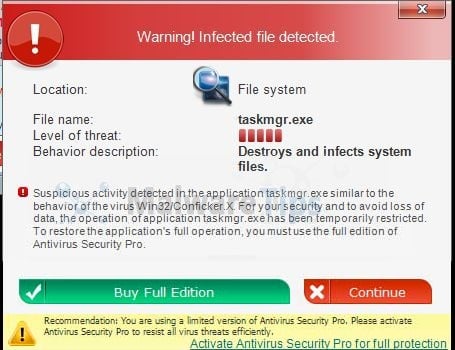 How to Remove it:
As this virus will not let you to do anything and also not let you to install any anti virus software to remove it so its a bit challenge to remove this software.
But you can use the following license key as an optional step.
Antivirus Security Pro Activation code: AA39754E-715219CE
Note: activating antivirus pro doesn't mean it is removed out from your computer, it is still in your computer, but after activating, it will allow you to download stuff from internet, so now you can use
Malware Bytes:-
Malwarebytes
is a light-weight anti-malware program that is excellent at removing the latest detections
Download Link :-
http://www.filehippo.com/download_malwarebytes_anti_malware/
Superanti Spyware:-
SUPERAntiSpyware
is a free anti-spyware program that offers excellent detections and quick removal of common infections.
Download Link:
http://www.bleepingcomputer.com/download/superantispyware/
Trojan Remover:-
Trojan Remover
. Not only detects Malware files but automatically removes them, without the need to use DOS or SAFE mode
Download Link:
http://www.simplysup.com/tremover/download.html
HITMAN PRO:-
HitmanPro
(formerly
Hitman Pro
) is a computer program to detect and remove
rootkits
,
trojans
,
viruses
,
worms
,
spyware
,
adware
and other
malware
(anything that may harm a computer), using extensive
behavioural analysis
and
cloud computing
. The program is developed by SurfRight.
Download Link:
http://www.surfright.nl/en/downloads/